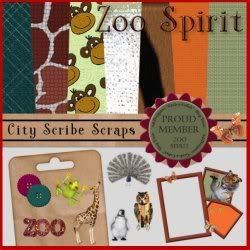 Well it's FINALLY! The Zoo Spirit Collaboration Kit! I can tell you personally that i have seen some of the kits available in this collaboration and you are going to be amazed!

The theme is "Zoo Spirit" and all the kits relate to the zoo. Some feature some realistic elements and other kits feature the cutest graphics you've ever seen.

Here is my portion of the kit. Please know that I am new to all of this so my papers and elements don't even compare to some of the awesome kits you'll see in this collaboration, but hopefully there are some things in my kit that people will enjoy and can use or combine with other kits to make some wonderful digital scrapbook pages.

I had to upload the kit in two different zip files. There are more elements not seen in the preview.

Click here for the elements part of my Zoo Spirit Kit.
Click here for the background papers for my Zoo Spirit Kit.
Click here for some Quick Pages (QP's) I did using the elements and papers found in the Zoo Spirit kit by http://www.creationsbyrachael.blogspot.com/


If you download my kit please leave me a comment if you can. We all appreciate a little love now and then. LOL!

Now sit back, grab a cup of tea or coffee and head on over to each designers web site or blog to pick up their Zoo Spirit Kits. And please don't forget to bookmark my blog and check back often. As I learn how to make new things I will list them on my blog for FREE!

My Terms of Use (TOU) are simple and easy - everything I share here (freebies that I made) are for personal, commercial and scrap for hire use. You can also subscribe to my blog by entering your e-mail in the top right of this page. That way you'll get an e-mail notifying you of new freebies. Please make sure to read and respect the TOU's of the other artists who are part of this collaboration as each kit/artist has different terms.
Here are the other AWESOME designers who are offering their own Zoo Spirit kits. Make sure to stop by and visit each one of these incredibly talented ladies blogs. While you are there please make sure to "leave them some love" and comment on the 4share downloads.
Click on each name to visit their sites.

Follow the Zoo Spirit train to these other fabulous freebies!

City Scribe Scraps <--- You are here!
Creative Digital Scraps by Chiara
LBCreations: Designs by Babette
Lei - Fairydust Princess - Magic Maker
Lighthouse Scrapping and Harbor Designs
The Scrap Loft: Kathy Goldstein Designs